Choosing the right ring binder for you
The best material for ring binders is…
Our ring binder material guide looks at the pros and cons for different types of material used for ring binder manufacturing. If you would like to know more let our 60+ years of expertise provide a solution made for you.
Contents
Ring Binder Essentials
Vinyl Ring Binders
Paper over board Ring Binders
Polypropylene Ring Binders
Natural Board Ring Binders
---
Ring Binder Essentials
Choosing the right binder for your needs is important and there are a number of different factors to consider when selecting a binder. You may be looking for something that can store documents in the office long-term. You may be heading to an event or tradeshow and would like to leave as a takeaway, or your long-term impact on the environment may form part of your thinking. In this article, we'll look at:
The different types of binders available and what they're made from including:
Style and size
How each type of binder is made
Capacity v spine size
Binder mechanisms
Binder capacity
By the end of the article, we hope you'll be able to make an informed decision when it comes to selecting the type of binder that is right for you and your business needs. If you've still got any questions after reading, our team of experts is more than happy to help.
Different Types of Materials
Here at Duraweld, we often describe our ring binders by the material they are manufactured from. We do this because it's the key indicator on its suitability for its end use.
We categorise using the four key materials our binders can be made from:
Paper over board
Vinyl
Polypropylene
Natural board
Each material offers its own set of features and benefits. Depending on what the binders are being used for is a key consideration when selecting the material you'd like to use.
Style and Shape
Because we're a specialist manufacturer of stationery products, we have the benefit of being able to provide a greater range of sizes than third party resellers.
We can offer binders in A3, A4 and A5, in a portrait or landscape orientation, as well as non-standard sizes like a thin menu or compact Filofax.
With our custom range there is always scope to offer less common configurations and styles. We can create binders with flaps for closure, tri-fold designs, have multiple mechanisms and much more. If it doesn't exist, we'll design and make it!
Capacity vs Spine Size
Many of our binders refer to the binders' capacity which is always smaller than the spine size. Capacity is the measurement of the document stack height or how much a binder holds comfortably based on the type of mechanism.
How much a binder holds is dependent on the contents, especially if your documents are kept inside pockets. Please refer to our capacity guide for a more in-depth explanation.

Mechanisms
There are a few considerations when choosing a mechanism, all of which revolve around its usage.
Our binders typically use a D-ring shaped mechanism that is fitted into the back cover. This allows the front cover and spine to open freely without pushing or pulling on the enclosed documents that you get from an O-ring shaped mechanism.
Two ring mechanisms: are generally favoured due to a slightly reduced cost compared to four ring mechanisms, and they do a great job.
Four ring mechanisms: are great for travel or heavy usage in an office environment. The addition of two extra rings spreads the tear stress on the documents, it also minimises the movement inside the binder.
Lever arch mechanisms: are ideal when paperwork is moved, accessed or reorganised frequently, and like four ring, makes it an ideal solution for in an office environment. The larger mechanism also allows paperwork to be flipped from side to side with ease and the easy to close lift handle makes opening and closing the binder simple and effortless.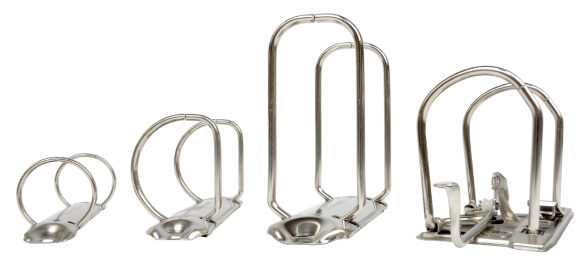 ---
Vinyl Ring Binders
Why choose vinyl?
Durable and long-lasting, vinyl is the perfect choice for document filing in high volume paperwork environments such as legal or accounting firms.
Vinyl is available in a number of different colours, it is easily wiped clean, and its material properties offer good protection against water, dirt and grease. Each element of the binder can be recycled.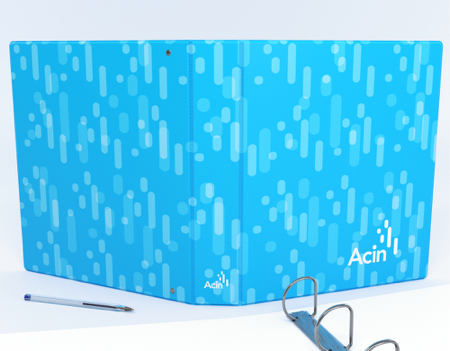 How are they made?
Vinyl ring binders are manufactured by welding vinyl over cardboard. Constructed from two pieces of vinyl, an outer and inner piece, with three pieces of cardboard front, back and spine.
The high-frequency weld process defines the binder shape and creases for folding, sealing the cardboard inside. Once welded, the binder is fitted with a choice of two ring, four ring, or lever arch mechanism depending on the overall size.
Quality Materials
We use high-quality 300-micron vinyl, thicker than the standard 180-micron vinyl commonly used on cheaper alternatives. The material is smooth to the touch with a light leather imprint.
Cardboard thickness is usually 2250 micron with 3000 microns used for higher capacity binders. This offers a sturdy construction perfect for repeated daily use.
Overlays and Encapsulation
Advantages of vinyl binders are the ability to add an overlay or additional pockets.
An overlay uses a clear piece of vinyl that covers the front, back or spine depending on your requirements. The most common overlay used is one that sits on the front cover and spine. The overlay has a stepped opening to the top, providing a full-size pocket to allow you to add your own printed sheets to customise the binder.
A cost-effective solution for print is to have the overlay sealed on all edges, with a printed sheet underneath, in a process called encapsulation.
Pockets for days
Extra pockets can be added to customise the binder with ease, usually to the inside covers. Popular choices include:
Business card pockets
Spine ticket
Diagonal, horizontal, and vertical pockets
There are a wide choice of sizes and options for pockets, including:
Specialist USB flash drive pockets
Segmented or subdivided
CD pockets
Print Options
Vinyl ring binders have the widest range of print options available. The vinyl material can be printed on directly, using screen, digital or lithography print processes.
Printed sheets can also be encapsulated or inserted under an overlay. Vinyl has the benefit of being able to be foil blocked and embossed.
Considerations
Vinyl isn't suited for cold temperatures of around a zero degrees as it can crack if knocked sharply, a phenomenon known as 'cold crack'.
During colder months our vinyl products are shipped in double-walled boxes with bubble wrap for extra insulation, boxes are labelled fragile.
---
Paper-over-board Ring Binders
Choosing Paper Over Board
Paper over board products are massively versatile. The binders can be made to almost any size making them highly customisable without having to meet predetermined tool sizes.
They can be printed with any artwork, making them perfect for wrap-around designs, ideal for promotional content.
Paper over board products can use a variety of different laminates, alternatively, they can use specialist papers and materials for a premium finish.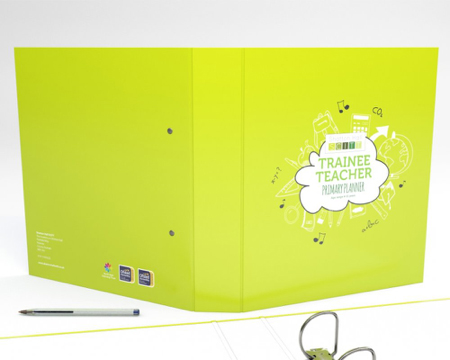 How are they made?
Paper over board ring binders are produced using a single piece of cardboard, this is covered with an outer and inner sheet.
A typical binder will have a printed and laminated outer sheet, with a plain non-laminated inner sheet. The sheets are glued to the board, with the outer sheet wrapped around the edges of the cardboard to provide a secure sealed edge.
Once glued and dried, the board will be creased to shape to create the binder folds and fitted with a two ring, four ring, or lever arch mechanism to complete the product.
Pockets
Like their vinyl counterpart, paper over board ring binders can have pockets. The pockets are self-adhesive and not as widely used. They tend to be limited to business cards and smaller inserts or leaflets.
We have an excellent range of self-adhesive pockets which allows for a wide choice.
Print Options
From a print viewpoint, paper over board ring binders are a highly creative cost-effective option.
Smaller runs tend to be digitally printed with larger bulk orders having the cover sheets litho printed. They are widely used for designs that are printed on the outer and inner cover.
The printed sheets can be finished using matt, gloss or anti-scuff laminate. The binders can also be foil blocked or embossed.
Considerations
This type of binder is not intended for high-intensity use, which can soon degrade its finish, especially on the corners.
As with any laminated product, they can be difficult to recycle even if biodegradable laminate is used, additionally, the glue used in manufacturing is not biodegradable.
---
Polypropylene Ring Binders
Choosing Polypropylene
Polypropylene binders have a simpler manufacturing process than other types of binders, often making it one of the most budget-friendly options.
The material is available in a number of different colours, including semi-transparent or tinted. Polypropylene has the same protective property as plastic, helping protect documents from spillages and can be wiped clean.
It can be recycled and is a popular choice for binders that are kept-to-hand like operating manuals, patient care plans and more.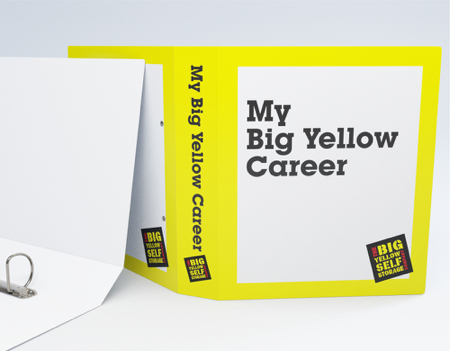 How are they made?
Similar to paper over board, polypropylene ring binders are made using a single piece of material that is die-cut and creased to shape on an industrial platen (think of it like a giant cookie cutter).
The binder is then fitted with a choice of two ring, four ring or lever arch mechanism.
Material
Polypropylene is lightweight and great for binders that are carried around. It is available in a variety of thicknesses 475 micron lightweight, 750 micron medium weight or 1100 micron heavyweight. The thickness is usually based on the binder capacity or mechanism type.
Print Choices
Polypropylene has a variety of print options including screen, digital and litho print. The print can go right to the edge of the binder but not over.
Being an economical choice, polypropylene ring binders often are paired with a single colour print, which is great for company logos, names and binder titles.
Pockets
Polypropylene binders can have pockets that are made from a clear material attached to the outside or inside. These are added using a sonic weld which can be less economical on bulk orders.
Considerations
Polypropylene is less rigid than a board binder; it won't stand on a shelf without a flap to close them. The material has a 'memory' and once fixed in position, it will retain that position.
Sonic welds can affect the print. It is generally preferable to leave the area for a pocket clear of print. Print will appear lighter and translucent when printing on to frosty material.
---
Natural Board Ring Binders
Why choose an eco-binder?
Our eco-range ring binders are designed on a minimal manufacturing ethos. Coupled with a simple one colour print these binders can look both elegant and stylish using the natural board as a canvas. These types of binders are recyclable and often used as part of brand environment awareness campaigns or to reflect company values.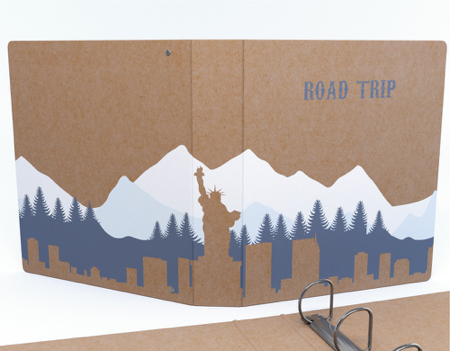 How are they made?
Natural board ring binders offer our most eco-friendly option. Our eco-range set of binders are manufactured from a single piece of Kraft board. The Kraft board can be simply cut square or die-cut for a premium finish. Once cut to shape they are then creased and fitted with a choice of two ring, four ring or lever arch mechanism.
Materials
Our number one choice for our eco ring binders is 2300 micron Kraft Board, with a smooth waxed appearance. This offers a fantastic compromise when offering an eco-friendly option that looks good and is printable.
As a manufacturer we are able to source a number of different types of natural board, to suit the type of product.
Print Choices
As with most of our products, they can be screen and digitally printed. Many of our customers opt for simple logo placement on the front cover and spine. This minimalist approach favours the eco-friendly ethos.
Pockets
Our eco ring binders can have self-adhesive pockets attached with a wide range of options to choose from. This is not a typical choice many customers make when purchasing this style of binder; however, the options are there if required.
Considerations
Print can appear slightly darker and maintains the material grain of the board as part of its appearance. For this reason we have found that simple designs in a single colour offer the best results.
British made since 1959

Free delivery

Eco-friendly solutions

In-house design team