Portable, secure writing boards.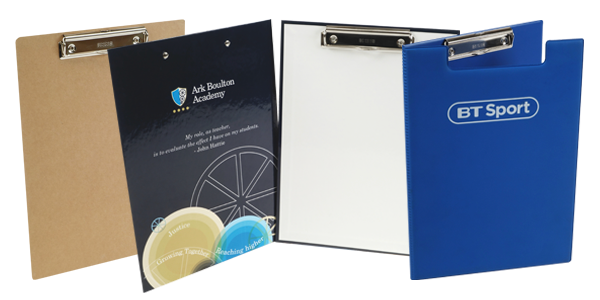 Clipboards
Great for taking notes when out and about. Duraweld clipboards are made from sturdy material giving you a hard surface to write on. Available in a variety of different styles and print options with a strong clip to hold your papers securely. Used in many different workplaces including warehouses, offices, schools, and events.
Our clipboards can be manufactured in a range of materials to suit. Paper over board for high impact print and design. Vinyl's durability that's perfect for everyday use. Natural board an eco-friendly, sustainable choice. Polypropylene for economy and light-weight design.
Branded – Personalise with your logo

Bespoke – Your concept. Our solution

Looking for something that you can't find?

Our bespoke service allows you to create customised products that are unique to you and your organisation. Modify colours, materials, printing, foiling, add pockets, magnets for closure, zips on wallets and handles plus much more. Speak to us about your ideas and our in-house design team will do the rest, creating you finished items that will distinguish you from your competitors.

Branding

Regardless of the type, style, and size of clipboard you choose, we offer print and branding across our range. Used by many top brands in retail, warehousing, and delivery, from brands such as Tesco, Lidl, Iceland, including BT Sport for presenters and journalists for TV and broadcasting events.

Non-standard sizes and alternatives

We can manufacture clipboards from A6 up to A3. Whether it's a clipboard folder with a wraparound cover for canvasing, tally boards or bingo clipboards, we can design and manufacture to the exact size you need. We even make clipboards that fit into ring binders, or dual purpose ring binders with a clipboard mechanism fitted into the back cover.

Specialist Clipboard Mechanisms

A great choice of clipboards mechanisms to choose from. Standard 120mm clipboard mechanism, with optional hanger or rubber corners, jumbo clips, or specialist easy grip plastic mechanisms for the blind and partially sighted.
British made since 1959

Free delivery

Eco-friendly solutions

In-house design team
Testimonials
'Always helpful'
"We have been a customer of Duraweld now for over 15 years. From the very beginning they have helped us with development of our product with great suggestions on how to achieve the performance that we needed. They are always helpful and try their best to accommodate our wishes even in the toughest of circumstances. I wouldn't hesitate to recommend them to others."
SG World
'Helps our production run smoothly'
"Here at Buoyant we use the Duraweld products on a daily basis and very happy with their quality. The good relationship we have between us helps our production run smoothly, never had to stop because of supplier issues and always a great partner in developing new bespoke products that help us keep our customers happy, with a wide range of choices."
Buoyant Upholstery
FAQs
Choosing Vinyl…

It can be difficult to take notes when out and about. The Duraweld range of clipboards are made from sturdy cardboard and covered in high quality vinyl, giving you a hard surface to write on. The firm clip holds your papers securely and comes with a hanger and rubber corners. Available in a variety of different styles and print options. Vinyl is available in a number of different colours, easily wiped clean and its material properties offer good protection against water, dirt and grease. Each element of the clipboard can be recycled.

Are your clipboards available in other colours?

We have a range of a standard colours available and can source additional colours for larger orders. Contact us to find out more.

Are other sizes available?

We can produce our vinyl clipboards in range of sizes from A3 to A5.

Do you have different clips available?

A great choice of clipboards mechanisms to choose from. Standard 120mm clipboard mechanism, with optional hanger or rubber corners, easy grip jumbo clip, wide format bulldog clips, or specialist plastic mechanisms for the blind.

What is your returns policy?

If you change your mind about an off the shelf purchase, please return the unused goods to us, with the receipt, within 14 days of purchase and we will offer you an exchange or a credit note.

This does not affect your legal rights, including your right to claim a refund, replacement, repair and/or compensation where the goods are faulty or misdescribed.

Is it possible to see a sample before I order?

A sample for a stock item will be sent on request. Please email sales@duraweld.co.uk or telephone 01723 584 091. We can also supply recently produced samples from other production runs for style, size, and quality. Availability is dependent on demand. Alternatively, we can manufacture a detailed pre-production sample of the product you are intending to order. This will take approximately 5 days and will cost £100.