Ring Binder Range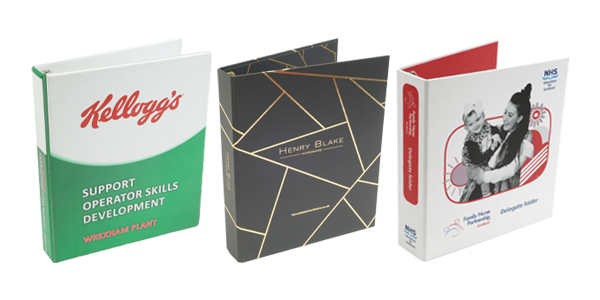 POB A4 Ring binderPrinted Paper Over Board
Unit price
A4 branded ring binder. Printed with your artwork. Premium finish and superb wraparound print design. Excellent choice for marketing, promotion, front of house and events.
Fitted with a 2 ring or 4 ring dee mechanism, great for organising and presentation. Paper over board binders are the first choice for top brands, with our in-house manufacturing methods providing the widest range of choice POB ring binders. Used for branding, training manuals, events, promotional materials, menus, samples and swatches.
Delivery included to the mainland UK.
• Full colour CMYK printed outer, plain inner
• Premium matt or gloss finish
• Great for branding and events
• Flexible sizes
Capacity Guide (approx):
• 25mm – 200 sheets
• 40mm – 320 sheets
Paper over board POB products are massively versatile. These POB binders can be made to almost any size making them highly customisable without having to meet fixed tool sizes.