Customise Your Packaging.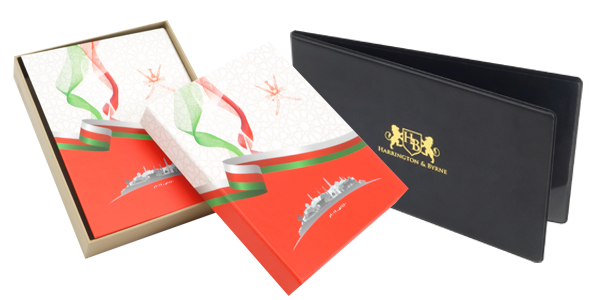 Presentation & Gift Boxes
Enhance the presentation of your products with a customised packaging solution. We can manufacture in a range of sizes and shapes, either with a lid or fold over flap. Our presentation boxes can be printed in any colour to match your branding and logo or made from an extensive range of textured materials and finishes.
All our boxes can be designed with specialist card or foam inserts to accommodate products of all shapes and sizes. From champagne bottles to specialist camera lens, or even reinforced heavy duty boxes for tile and granite samples. Our custom boxes can be fitted with carry handles, magnets, clip locks and much more to ensure you get the perfect product every time.
Branded – Personalise with your logo

Superb print for brands and logos on a range of products and materials. 

Bespoke – Your concept. Our solution

Looking for something that you can't find?

Our bespoke service allows you to create customised products that are unique to you and your organisation. Modify colours, materials, printing, foiling, add pockets, magnets for closure, zips on wallets and handles plus much more. Speak to us about your ideas and our in-house design team will do the rest, creating you finished items that will distinguish you from your competitors.

Branding and presentation

Duraweld has manufactured presentation boxes and gift boxes for a wide range of brands, including Walkers Sensations, The FA, Premiership football clubs, Moon Pig and many more. Designed and printed boxes in a range of styles from simple branded pillow packs to custom gift boxes for promotional events and award ceremonies.

Inserts and cut-outs

Made to fit, foam and cardboard inserts can be manufactured to hold a variety of items. Ideal for presentation, samples, and gifts, helping keep them secure during deliver and maximising your display potential. Foam and cardboard inserts are available in a range of colours and types of materials.

Heavy duty sample cases

Designed to meet your needs, as well as looking fantastic we manufacture many types of presentation boxes to hold a variety of products. The paper over board box  shown is designed to hold over 8kgs of paving samples in an easy to carry sample case.

Pillow pack gift boxes

Pillow boxes don't require any tape or glue and are easy to fold into shape. Choice of colours and print finishes including foil blocking. Great for gift packs, presentations and promotional items. Pillow packs are ideal for smaller, light-weight items, such as t-shirts, cosmetic products, or a selection of loose items.

Presentation pocket files and folders

Printed presentation folders and certificate files. Ideal for record of achievements used in schools and colleges. Choice of single certificate display or multi pocket file display folder.

Looks amazing with foil blocked logos, with the options for embossing, metal corners and foam padding, each adding a little extra finish.

A4 printed presentation wallets

Presentation wallets in a wide range of sizes including A3, A4 and A5. Customisable shapes with fold over flap. Rigid or flexible material, our document wallets can be printed with your artwork designs and logos. Options for closure include press studs, Velcro dots, tuck self-lock clips and zips.
British made since 1959

Free delivery

Eco-friendly solutions

In-house design team
Testimonials
'Always helpful'
"We have been a customer of Duraweld now for over 15 years. From the very beginning they have helped us with development of our product with great suggestions on how to achieve the performance that we needed. They are always helpful and try their best to accommodate our wishes even in the toughest of circumstances. I wouldn't hesitate to recommend them to others."
SG World
'Helps our production run smoothly'
"Here at Buoyant we use the Duraweld products on a daily basis and very happy with their quality. The good relationship we have between us helps our production run smoothly, never had to stop because of supplier issues and always a great partner in developing new bespoke products that help us keep our customers happy, with a wide range of choices."
Buoyant Upholstery
FAQs
What is your returns policy?

If you change your mind about an off the shelf purchase, please return the unused goods to us, with the receipt, within 14 days of purchase and we will offer you an exchange or a credit note.

This does not affect your legal rights, including your right to claim a refund, replacement, repair and/or compensation where the goods are faulty or misdescribed.

Do I have to pay for a sample?

Manufactured pre-production samples for bespoke products are available and charged at £100, dependent on complexity.

Is it possible to see a sample before I order?

A sample for a stock item will be sent on request. Please email sales@duraweld.co.uk or telephone 01723 584 091. We can also supply recently produced samples from other production runs for style, size, and quality. Availability is dependent on demand. Alternatively, we can manufacture a detailed pre-production sample of the product you are intending to order. This will take approximately 5 days and will cost £100.

How do I know if the artwork I have supplied is suitable?

Your artwork is looked after our excellent pre-press team, before anything is manufactured, the artwork is checked to ensure it is of the required quality. They will contact you if there are any issues. Other file formats will be accepted and can be emailed after you place your order, including the order reference so we can tie everything together.

Can I discuss my requirements with someone before I make a purchase?

Our customer service team are always here (during office hours) to help customers with any queries they may have. As well as offering expert advice on bespoke products, such as how to cut your costs, or the best way to get a great looking product, they are happy to guide you through the online order process.

How do I know if my order has been despatched?

An email is sent automatically upon shipment of your order. If you would like to know the status of your order please email sales@duraweld.co.uk or telephone during office hours telephone 01723 584 091 and ask one of our customer services team for the status of your order.