A5 Ring Binders? Yes we do!
A5 ring binders available in an amazing range of print, materials and finishes. Whether you are looking for fantastic print, an everyday binder or an easy clean option. Our range of stationery has something to suit everyone.
Contents
Do you sell A5 ring binders on your website?
Do you make custom A5 ring binders?
Which A5 ring binder is best?
What size binder is A5?
Which is bigger A5 or A6?
Which is better D-ring or O-ring binder?
What size binder do I need for 100 pages?
What are A5 ring binders used for?
---
Do you sell A5 Ring Binders on your website?
We manufacture A5 ring binders in our UK based factory. Our presentation ring binders include a full size pocket on the front cover and spine. Allows you to add your own printed sheets. Includes free delivery to the mainland UK.
---
Do you make custom size A5 ring binders?
All our A5 ring binders can be made to a custom size to match your stationery needs. Our bespoke stationery offers an amazing range of options to match your budget. Choose a full colour printed wrap-around design, or simple title and logo designs. Just one of the bonuses of ordering direct from a UK stationery and packaging manufacturer.

---
Which A5 ring binder is best?
The best type of printed A5 ring binder is a paper over board binder, although each type of ring binder has an ideal use. Below are the most common types of A5 ring binders showing which is best.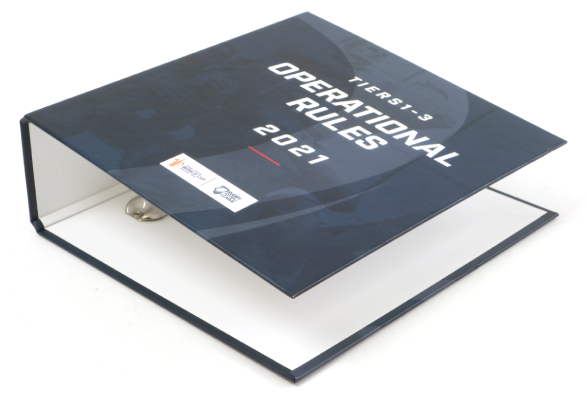 The best A5 ring binder for print and branding
Branding and promotion with flexible sizes. Paper-over-board A5 ring binders have a unique wrap-around print design which uses a printed laminated sheet wrapped around cardboard. This type of ring binder is perfect for promotional & marketing purposes. They look fantastic especially for designs that include photos or vibrant colours. They can be finished in gloss, matt, soft-touch or anti-scuff laminate.
The best A5 ring binder for everyday use
A5 ring binder made from vinyl are some of the longest lasting and hardest wearing available. Vinyl binders offer the widest range of colours and design options for pockets. Spine pockets for labels, business card pockets, front cover pockets for easy insertion of your own printed sheet. These ring binders are ideal for filing, document archives, and training manuals.
The best A5 ring binder for easy clean
Polypropylene A5 ring binder are manufactured from a single piece of material. This style minimises the areas where dirt could gather. Making them a popular choice for hospitals, GPs, and care providers. Polypropylene ring binders are available in different colours and tend to be printed with simple one colour designs.
The best A5 ring binder for eco-friendly
Natural board ring binders are 100% recyclable. Using the natural board as a print canvas minimises the carbon footprint during manufacture. Our Kraft board range is a fantastic choice when you need an eco-friendly option that looks great and is printable. Helping your business achieve its sustainability goals and go green.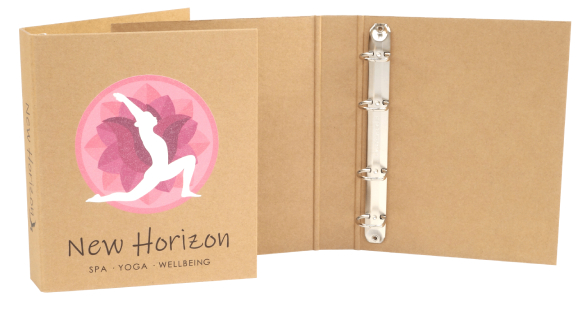 ---
What size binder is A5?
Any of our binders can be made in A5 size, including portrait or landscape styles. Our most common 25mm capacity binder has a cover size of 225mm (h) x 187mm (w). The larger size allows A5 documents to easily fit inside whether they are punched sheets or put into pockets. Our standard range sizes can be viewed in our Artwork Templates section.
---
Which binder is bigger A5 or A6?
An A5 ring binder is larger than A6, it is double the size and is made to hold A5 sized paper.
---
Which is better D-ring or O-ring binder?
The D-ring is better than O-ring for binders. We use D-ring mechanisms as standard in all our stationery and office binder. Five reasons to choose a D-ring mechanism for your next ring binder.
Fitted into the back cover makes the rivets less noticeable.
Keep the spine clear for artwork and print.
The flat edge keeps your contents in a neat stack.
Front cover can be opened and closed without moving your documents.
Minimises pull and tear along the punch holes of your contents.

---
What size binder do I need for 100 pages?
A 15mm capacity ring binder will hold 100 pages. As a rule of of thumb every 10mm of capacity will hold 100 sheets of 80gsm paper. For example 25mm will hold 250 sheets of paper and 40mm will hold 400 sheets of paper.
---
What are A5 ring binders used for?
A5 ring binders are used for training manuals, log books, daily planners, health & safety guidelines, and equipment SOPs.
The compact size makes them easier to hold in one hand.
Takes up less space on your table or desktop when using.
Lighter and easy to carry when traveling.
British made since 1959

Free delivery

Eco-friendly solutions

In-house design team