Yorkshire Print and Packaging
Supplying Yorkshire Businesses
With over 60 years experience, Duraweld have been providing Yorkshire print and packaging solutions to businesses across all sectors in Bradford, Leeds, Harrogate, Huddersfield, York and Doncaster.
In Leeds, York and Bradford we have provided design agencies, printers, print brokers and end users paper over board solutions.
Paper over board, also known as POB allows a printed cover design to be bound directly to the hardback cover which is ideal for ring binders, swatch holders, menus, custom gift boxes, slipcases, sample folders and so much more.
Paper over board comes in regular gloss, matt, soft-touch and anti-scuff laminate and offers a variety of sizes from A6 upwards and can be used in portrait or landscape not to mention the flexibility to offer custom made sizes and solutions.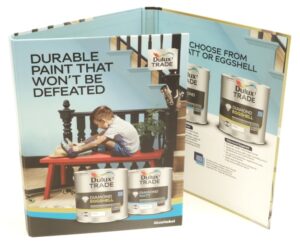 In Bradford & Huddersfield we have produced swatch and pattern books for a number of customers and can turn them around in 10 working days based on receiving printed sheets.
Designed from the outset to maximise presentation whether its full colour print or elegant one colour designs, the only limit is your imagination. From simple pockets & wallets, four-page swatch folders all the way through to heavy-duty carry cases.
With Free delivery, eco friendly solutions and our amazing in-house design and innovation team we can offer everything you need under one roof.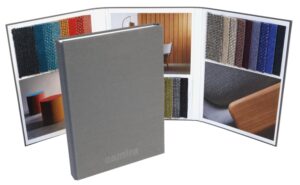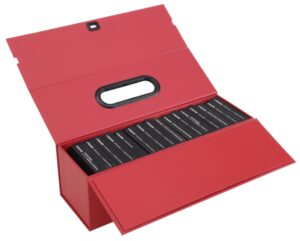 We have lost count of the number of ring binder solutions we have delivered across North and East Yorkshire. Whether its O-ring, D-ring, Q-ring & Lever Arch binders, our popular A5 & A4 ring binders with 15mm, 25mm, 40mm up to 100mm capacity, there's a solution to fit all our customers requirements.
For paper over board presentation ring binders there are no limits on colour using a printed outer sheet. Our everyday and easy clean ring binders are available in a range of colours, from blue binders to pink binders there is a great choice of coloured material for you to choose from.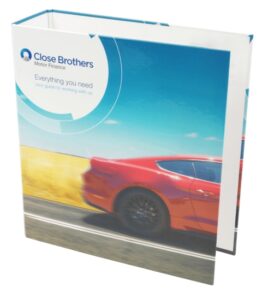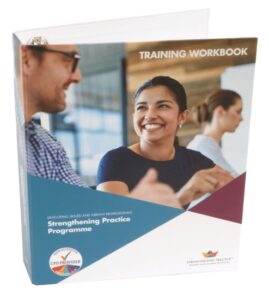 If you are based in Yorkshire and need a stationery or packaging solution do not hesitate to get in touch. We have live chat on the homepage of our website or are happy to take your call on 01723 584 091.
British made since 1959

Free delivery

Eco-friendly solutions

In-house design team