Showcase Your Business.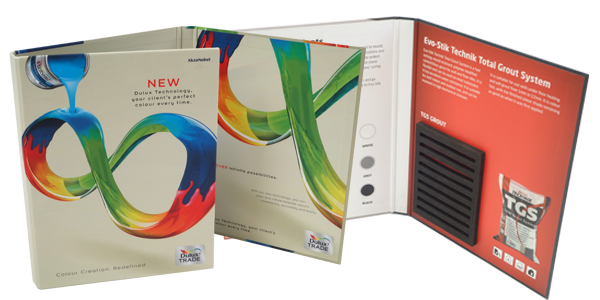 Sample Books and Folders
Showcase your business products with a high-quality sample books. Designed for colour chart samples, to hold tile, carpet, and many types of fabrics and textiles. Sample folders are available in a range of styles to suit your needs, including 6PP trifold to 8PP multi-cover layouts.
The high-quality print supplied by Duraweld ensures your design and samples are presented to the highest standard. Our fulfilment team are happy to supply the folders fitted with your samples, making your sample folders ready to use out of the box. Speak to a member of our team about our full range of fulfilment options.
Bespoke – Your concept. Our solution

Carpet | Fabric | Upholstery | Paint | Tile | Wood | Paper | Glass | Concrete | Paving | Metal | Vinyl | Cladding

Bespoke swatch & sample products, for a huge range of substrates. Quality samples matter, which is why our products are designed around your samples, helping your business find a proven sales tool.

Whether its folders for paint sample cards, fabric sample books or fabric headers our products are customised to fit your samples perfectly. We also manufacture presentation boxes and carry cases, making it easier for your samples to be taken with you.

Product Sample Books

We have manufactured countless sample books in a range of styles for carpet, fabric, tile, wood, glass, concrete, metal, granite, colour swatches for paint and more.

Our sample books and folders come with superb print, the perfect showcase to enhance your samples, in a practical easy to carry design. We also make sample folders in textured materials to match your company branding and style.

Sample & Swatch Headers

Swatch headers and sample holders are a great way to group large or small individual product samples. Printed and manufactured to meet the size and weight requirements, with a choice of integrated hanger or carry handle. Our fabric headers can be printed and manufactured in a range of materials, Buckram headers are one of our most popular choices.

Multiple sets and pages

Make the most of your printed swatches or samples with a 4PP, 6PP or 8PP sample folders. Our custom sample folders are manufactured to a size that works best for your samples. Multiple title sets, slipcases and carry cases are all available, making it easy for your samples to be stored and transported.

Swatch Card Ring Binders

Swatch cards can be easily organised in small or large capacity ring binders. Making it easier for you to arrange your samples as your business changes and grows. Ideal for fabric swatch cards, colour & paint swatch cards and paper & colorplan swatches.

Trusted by top brands

Duraweld has worked on many high-profile brand sample folders (many we can't even mention), including Camira, Dulux, Evo Stik, JCB, Carpet Right, and Hillary's Blinds. Quality products including in-house fulfilment for fitting samples is the number one reason top brands choose Duraweld time and again.

Sample Boxes & Packaging

Samples are still used as a primary selling opportunity for many sectors, one of the reasons we specialise in designing and creating innovative solutions to share and store your samples. As well as sample books and folders, we also manufacture presentation sample boxes. Fitted with card or foam inserts to ensure your samples are kept secure during transit.

Sample Carry Case

Bespoke branded heavy duty sample box to carry a range of concrete and paving samples. With an easy close clip and carry handle, designed to hold 10kgs in a neat and compact form. The printed sample box was made using anti-scuff lamination for extra durability.
British made since 1959

Free delivery

Eco-friendly solutions

In-house design team
Testimonials
'Always helpful'
"We have been a customer of Duraweld now for over 15 years. From the very beginning they have helped us with development of our product with great suggestions on how to achieve the performance that we needed. They are always helpful and try their best to accommodate our wishes even in the toughest of circumstances. I wouldn't hesitate to recommend them to others."
SG World
'Helps our production run smoothly'
"Here at Buoyant we use the Duraweld products on a daily basis and very happy with their quality. The good relationship we have between us helps our production run smoothly, never had to stop because of supplier issues and always a great partner in developing new bespoke products that help us keep our customers happy, with a wide range of choices."
Buoyant Upholstery
FAQs
What is your returns policy?

If you change your mind about an off the shelf purchase, please return the unused goods to us, with the receipt, within 14 days of purchase and we will offer you an exchange or a credit note.

This does not affect your legal rights, including your right to claim a refund, replacement, repair and/or compensation where the goods are faulty or misdescribed.

Do I have to pay for a sample?

Manufactured pre-production samples for bespoke products are available and charged at £100, dependent on complexity.

Is it possible to see a sample before I order?

A sample for a stock item will be sent on request. Please email sales@duraweld.co.uk or telephone 01723 584 091. We can also supply recently produced samples from other production runs for style, size, and quality. Availability is dependent on demand. Alternatively, we can manufacture a detailed pre-production sample of the product you are intending to order. This will take approximately 5 days and will cost £100.

How do I know if the artwork I have supplied is suitable?

Your artwork is looked after our excellent pre-press team, before anything is manufactured, the artwork is checked to ensure it is of the required quality. They will contact you if there are any issues. Other file formats will be accepted and can be emailed after you place your order, including the order reference so we can tie everything together.

Can I discuss my requirements with someone before I make a purchase?

Our customer service team are always here (during office hours) to help customers with any queries they may have. As well as offering expert advice on bespoke products, such as how to cut your costs, or the best way to get a great looking product, they are happy to guide you through the online order process.

How do I know if my order has been despatched?

An email is sent automatically upon shipment of your order. If you would like to know the status of your order please email sales@duraweld.co.uk or telephone during office hours telephone 01723 584 091 and ask one of our customer services team for the status of your order.