Engage your customers.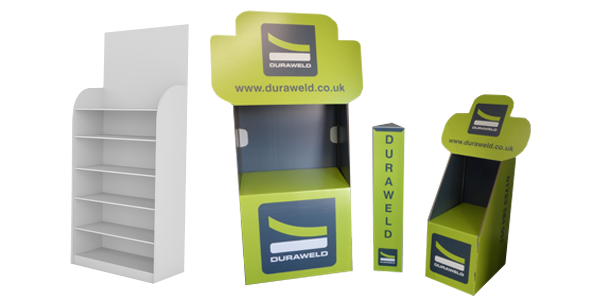 Point of Sale
Fully customisable printed point of sale units, designed and manufactured to meet your individual requirements. In a wide range of styles including freestanding display units, table top and counter units, brochure holder, leaflet dispenser, and multitier totem shelving units.
Our point-of-sale display units are built to be durable with a high-quality finish and print, with custom sizes to fit an existing space perfectly. From small to large orders, samples and prototypes, the team is here to help you through the whole process.
Branded – Personalise with your artwork

Superb print for brands and logos on a range of products and materials.

Bespoke – Your concept. Our solution

Made to fit

Our digital cutting capabilities and flexible point of sale templates can be adjusted to fit, ensuring you get the perfect product. Whether you are looking for slim or wide fit end shelf units, to shaped cut inserts to hold items securely. 
British made since 1959

Free delivery

Eco-friendly solutions

In-house design team
Testimonials
'Always helpful'
"We have been a customer of Duraweld now for over 15 years. From the very beginning they have helped us with development of our product with great suggestions on how to achieve the performance that we needed. They are always helpful and try their best to accommodate our wishes even in the toughest of circumstances. I wouldn't hesitate to recommend them to others."
SG World
'Helps our production run smoothly'
"Here at Buoyant we use the Duraweld products on a daily basis and very happy with their quality. The good relationship we have between us helps our production run smoothly, never had to stop because of supplier issues and always a great partner in developing new bespoke products that help us keep our customers happy, with a wide range of choices."
Buoyant Upholstery
FAQs
What is your returns policy?

If you change your mind about an off the shelf purchase, please return the unused goods to us, with the receipt, within 14 days of purchase and we will offer you an exchange or a credit note.

This does not affect your legal rights, including your right to claim a refund, replacement, repair and/or compensation where the goods are faulty or misdescribed.

Do I have to pay for a sample?

Manufactured pre-production samples for bespoke products are available and charged at £100, dependent on complexity.

Is it possible to see a sample before I order?

A sample for a stock item will be sent on request. Please email sales@duraweld.co.uk or telephone 01723 584 091. We can also supply recently produced samples from other production runs for style, size, and quality. Availability is dependent on demand. Alternatively, we can manufacture a detailed pre-production sample of the product you are intending to order. This will take approximately 5 days and will cost £100.

How do I know if the artwork I have supplied is suitable?

Your artwork is looked after our excellent pre-press team, before anything is manufactured, the artwork is checked to ensure it is of the required quality. They will contact you if there are any issues. Other file formats will be accepted and can be emailed after you place your order, including the order reference so we can tie everything together.

Can I discuss my requirements with someone before I make a purchase?

Our customer service team are always here (during office hours) to help customers with any queries they may have. As well as offering expert advice on bespoke products, such as how to cut your costs, or the best way to get a great looking product, they are happy to guide you through the online order process.

How do I know if my order has been despatched?

An email is sent automatically upon shipment of your order. If you would like to know the status of your order please email sales@duraweld.co.uk or telephone during office hours telephone 01723 584 091 and ask one of our customer services team for the status of your order.